In breaking and completely unexpected news, Rockstar announced a real-life 3-part Max Payne 3 comics project, a collaboration between Rockstar, Marvel and even Remedy's own Sam Lake.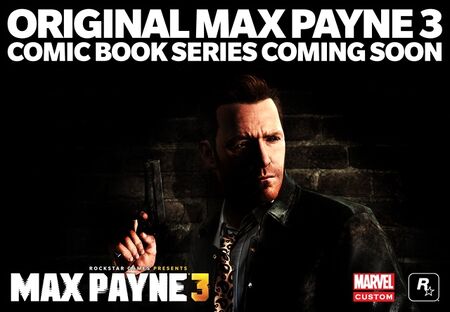 The story of the comic books will cover some events of Max Payne's life, ranging from those even before the original Max Payne to those of Max Payne 3, and will be co-written by Rockstar Games' own scribe Dan Houser and Sam Lake, while the art will be handled by the Marvel Comics' artists. Marvel is, of course, a very well known American comic publisher, most famous for its superhero comics (Spider-Man, X-Men, etc.).
The Max Payne 3 comics project will see the return of the father of Max Payne, Sam Lake, to the Max Payne franchise after all. After its 2004 sale from Remedy to Take2, most would have though Lake was done with Payne, but snippets of news of him and the rest of Remedy giving pointers to Rockstar during Max Payne 3's development had surfaced and now his official involvement in touching the series once again, at least through co-writing a few comics, has been confirmed.
Although the dramatic story of Max Payne has been presented in graphic novel format in the first two games, this is the first time the franchise is getting its actual comic books and a print medium iteration in general.
The comics will debut with the first issue, titled "After the Fall," coming in "a few weeks," a digital version of which will be actually released for free on the Rockstar Newswire or the official Max Payne 3 website. There will be a "limited" number of printed comics released, but no details of how and where these will be possible to be purchased are known as of yet.
Source: the Rockstar Newswire story.