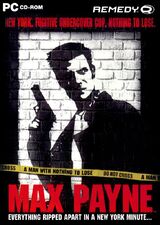 Fifteen years ago, on July 23rd, 2001, the world got to first experience the critically-acclaimed game,
Max Payne
, and since then we've enjoyed Max's journey through the night on a wide variety of consoles, a handheld system, and iOS and Android-supported devices (with the newest version of the game being released this last April for
the PlayStation 4
).
Two
sequels
,
a film
, and
a comic series
later, we're all still celebrating Max and the world that
Remedy
and
Rockstar Games
have created, with fans contributing to the franchise's legacy by making
short films
,
countless pieces of art
, and
an impressive novelization of the first game's story
. It's been fifteen years of Payne, and I think it's safe to say that the violent but darkly comedic series will continue to enthrall and entertain gamers everywhere for many years to come.