Put Out My Flames With Gasoline
is the fourth chapter of Part II in
Max Payne
.
After acquiring the necessary firepower, Max attempts an assassination on Angelo Punchinello, by setting up a meeting with him at Casa di Angelo; but Angelo, not trusting Max, sets a trap for him and burns down the restaurant with Max trapped inside.
Max makes his way through the restaurant, dodging flames and explosions until he reaches a safe area and kills a few
mobsters
guarding the exit. Max then escapes through a sewer tunnel and is picked up by Vlad and taken to the
Punchinello Manor
.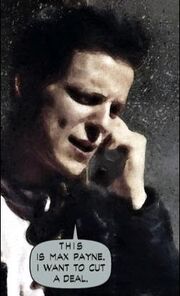 Other Character Appearances
Edit
On the PS2/Xbox version, this chapter is divided into two sub-chapters: No Payne No Gain and Put Out My Flames with Gasoline.
Obtainable Accomplishments
Edit
Put Out My Flames With Gasoline
Complete 'Part II Chapter 4: Put Out My Flames With Gasoline' on any difficulty
10 POINTS
Casa di Angelo is Italian for 'House of Angels'
At one point a gas can rockets towards Max and Bullet Time will be automatically enabled for a few seconds.
After escaping the flames and killing the first guard, there's a service elevator and if you throw a grenade down it, the blast will kill the two mobsters in the basement.
Video Walkthrough
Edit
Community content is available under
CC-BY-SA
unless otherwise noted.