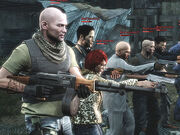 Max Payne 3 is the first game in the series to feature a multiplayer mode. Through the multiplayer, the players will play as characters from the game's storyline. Note that: some of the Factions or characters did not appear on singleplayer.
Character List
Edit
Max Payne 3 Era (Deathmatch and Payne Killer only)Edit
Tropical Max
Bodyguard Max
Smart Casual Max
Bad Day Max
Down to Business Max
Police Max
Docks Max
Panama Max
Worst Day Max
Hoboken Max
Booze and Pills Max
Helicopter Pilot Passos
Docks Passos
Hoboken Passos
Bodyguard Passos
Jessica
Natalia
Ana
Sophia
Harald
Mateus
Paulo
Fernado
Guilherme
Thago
Alvaro Neves (Unlocked ay Level 45)
Max Payne
Jaclyn
Juliana
Ana
Nicola
Gustavo
Bruno
Lucas
Hamish
Henrique
Pedro
Armando Becker (Unlocked at Level 43)
Max Payne
Angelica
Natalia
Sophia
Amanda
Harry
Nick
Vincent
Salvatore
Angelo
Primo
Angelo Punchinello (Unlocked at Level 48)
Max Payne
Christy
Maria
Donna
Betty
Dave
Luiz
Joseph
Frank
Anthony
Joe
Anthony DeMarco (Unlocked at Level 46)
Max Payne
Rafael
Elvis
Luiz
Vinicius
Lucas
Pedro
Mugger (Unlocked at Level 42)
Max Payne
Jessica
Juliana
Mariana
Amanda
Deathmatch only Characters
Edit
Stripclub Barman
Hoboken Bar Girl
Max Payne 1 era Max Payne (Pre-order bonus)
Max Payne 2 era Max Payne (Classic Character Pack)
Curupira (Removed)
DLC Character List
Edit
Adauto
Alexildro
Dinho
Edson
Vitor
Mapi
Max Payne
Arika
Cassia
Edili
Flavia
Marabo
Mirelli
Nade
Pucu
Tomas
Rodolfo
Eder
Claudio
Luan
Murilo
Kaique
Iago
Max Payne
Sabrina
Evelyn
Betina
Ester
Livia
Community content is available under
CC-BY-SA
unless otherwise noted.