"<...>we wanted to include details that were not covered in Max 1 and 2 and we wanted it to be right. So, I reached out to Sam, and we discussed a lot of stuff; he checked a lot his oldest notes, stuff that he'd not thought about since before beginning work properly on Max 1..."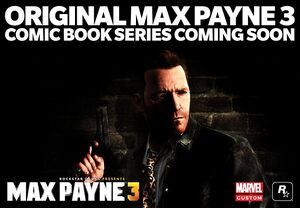 Max Payne 3 comics is an 3-part comic series, written by Dan Houser and Sam Lake and drawn by the artists of Marvel Custom Solutions. Acting as a tie-in to the Max Payne 3 game, the comics explore Max Payne's life story's events during the first and second games and bridge them to those of the third game. Featured are also unseen episodes of Max Payne's past, taking place in the timeline even before the events depicted in the first game.[2]
The comics were being released by Rockstar as free digital downloads. A limited number of printed editions will be for sale. Some of them are going to be given to Social Club members via sweepstakes.
The comics were released combined in November 12, 2013 for retail in bookshops and online, with a never before seen artwork from the Max Payne series.[1]
The Complete Edition (Nov 12th, 2013)
References
Edit
↑ "Gaming Godfathers Dive Into Max Payne's Childhood With New Comic" at Mashable. Retrieved May 8th, 2012.
↑ "Original Max Payne 3 Comics Series Produced by Marvel Coming Soon" on the Rockstar Newswire. Retrieved April 17th, 2012.
External links
Edit