Max Payne refers to the first game created by Rockstar, in which Max Payne, the main character of the Max Payne series, ia a Detective working for the NYPD with a loving wife and a new born baby daughter, a home in the suburbs, "The American Dream", as he called it. Then one day he came home home from work and saw the big V standing for a drug called Valkyr marked along the wall of his house, and he hears the screams of his wife and daughter, brutally killed by Valkyr addicts. After Max kills the murderers of his loved ones he goes on a rampage for revenge leading him to join the DEA and go undercover in a personal mission to find the source of Valkyr and get rid of it from New York City. but soon finds himself on his own as he is framed for murder and sent on a quest for vengeance through the criminal underworld.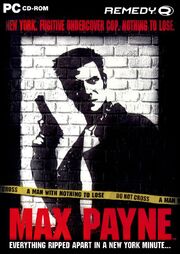 Gameplay
Max Payne is a third-person shooter, in which the player assumes the role of Max Payne. Initially, the player's only weapon is a 9mm Pistol. As they progress, players access other weapons including handguns, shotguns, sub-machine guns, long-range rifles, and hand-thrown weapons. To move the game along, the player is told what the next objective is through Max's internal monologue, in which Max iterates what his next steps should be. The prime emphasis of the series is on shooting. Almost all of the gameplay involves using bullet time to gun down foe after foe. Levels are generally straightforward, with almost no key-hunting. However, some levels do incorporate platforming elements and puzzle solving. Ammo is in virtually constant supply, as all enemies drop some ammo when killed. [1]
Bullettime
Bullet time is a very large part of the Max Payne universe. When triggered, it slows down the action around th eplayer to allow them to have quicker reflexes, and thus lets them kill enemies with ease. The player's movement is slowed, but they are still able to aim and react in real-time, providing a unique advantage over enemies.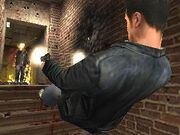 Max is able to perform a Shootdodge manuever, allowing him to leap into the air while still being able to fire his weapon. Shootdodge will end bullettime if it is used, unless you perform a Bullettime combo.
Weapons
9mm Pistols (Dual Wield)
Desert Eagles (Dual Wield)
Ingrams (Dual Wield)
Sawed-Off Shotgun
Pump-Action Shotgun
Pancor Jackhammer
MP5
Kalashkinov
Colt Commando
Sniper Rifle
Grenade
Plot
Spoiler warning: The following wiki article might contain spoilers. That is to be expected.
The story begins with Max Payne, a New York City police officer, returning home to find that a trio of drug junkies high on a new drug called Valkyr have broken into his house. Max rushes to the aid of his family, but he is too late; his wife and newborn daughter have been murdered. After his family's funeral, he transfers to the DEA.
Three years later, he is an undercover operative inside the Punchinello Mafia family, which is responsible for the trafficking of Valkyr. B.B. Hensley, a colleague in the DEA, gives Max a message asking him to meet Alex Balder, another DEA agent and a good friend of Max's, in the Roscoe Street subway station. When Max arrives at the subway, Alex is shot by an unknown assassin. As a result, the police consider Max the prime suspect in Alex's death. Additionally, the Punchinello family finds out that he is a cop and wants him dead.
Max goes after Jack Lupino, who oversees Valkyr distribution for the Punchinello family. After gunning him down, he meets Mona Sax, a hired killer, who laces his drink with a sedative and leaves him to be found by the Mafia, who proceed to interrogate him.
Max escapes the Mafia and gains access to a shipment of guns belonging to the Russian mob after killing one of their traitors. Max uses these weapons to infiltrate the house of Don Punchinello, the head of the Mafia. Max discovers that the Don is only a puppet in the Valkyr market when the Don is killed by agents of Nicole Horne, CEO of Aesir Corp, in front of Max. Horne herself then injects Max with an overdose of Valkyr and leaves him for dead.
When he awakens, he pursues his only lead, Horne's last words, "Take me to Cold Steel", heard just before he passed out. It leads him to a foundry with an old military bunker under it. He discovers that Valkyr was the result of a U.S. military project to improve its soldiers' stamina and morale; the project was halted shortly after it began due to lackluster results. He also discovers that his wife accidentally found out about the project while working at the District Attorney's office, so Horne let Valkyr junkies loose in Max's house.
After leaving the bunker, Max gets a call from B.B., who asks Max to meet with him at a garage lot. There, Max realizes that B.B. was the one who shot Alex, framing Max for his murder. A huge running gun-fight begins with Max giving chase through the garage lot. After killing B.B., Max gets a phone call from a man named Alfred Woden asking him to come to the Asgard building. Alfred is part of a secret society called the "Inner Circle". Woden informs Max about who Nicole Horne is and says the Inner Circle cannot pursue Horne because "their hands are tied." They ask Max to kill Horne in exchange for ensuring that any criminal charges against him are dropped. After the meeting, the room is stormed by Horne's agents. They kill every person in the room except for Max, who manages to escape, and Woden, who pretends to be shot.
Max enters the Aesir Corp. main office, where Horne is located. As he makes his way past security guards and mercenaries, he runs into Mona Sax again. She is shot by Horne after refusing to shoot Max. Max confronts Nicole and states that this whole thing started after Max's wife found out about the Valkyr project. Horne runs to the roof of the building, boarding a helicopter. Racing up to the roof, Max shoots the guy wires of the building's antenna; the antenna snaps off the roof and comes crashing down on the helicopter.
The NYPD arrive at the scene, arresting Max. As Max is being led out of the building by the SWAT team, he sees Alfred Woden. Knowing that Woden will ensure his safe passage through the judicial system, Max smiles genuinely.
Levels
Part I

The American Dream

Chapter 1
Chapter 2
Chapter 3
Chapter 4
Chapter 5
Chapter 6
Chapter 7
Chapter 8
Chapter 9
Part II

A Cold Day In Hell

Prologue
Chapter 1
Chapter 2
Chapter 3
Chapter 4
Chapter 5
Part III

A Bit Closer To Heaven

Prologue
Chapter 1
Chapter 2
Chapter 3
Chapter 4
Chapter 5
Chapter 6
Chapter 7
Chapter 8
See Also
External Links
Cite error: <ref> tags exist, but no <references/> tag was found
Community content is available under
CC-BY-SA
unless otherwise noted.