Line 22:
Line 22:
 

<!---descr="Background and history on the character (or interactive thing)."--->

 

<!---descr="Background and history on the character (or interactive thing)."--->

 
 
−

Frankie Niagra was a hitman for [[Angelo Punchinello]]. He killing his captives with his baseball bat. He is a fan of Captain Baseball Bat Boy (as Vinnie Gognitti mention in Max Payne 2 : ˝Frankie was into that stuff, he was a fu****g top guy˝)[[File:2.jpg|thumb|Frankie "The Bat" Niagra]]

+

Frankie Niagra was a hitman [[Angelo Punchinello]]. is a fan of Captain Baseball Bat Boy : [[File:2.jpg|thumb|Frankie "The Bat" Niagra]]

 
 
 

==Strategy==

 

==Strategy==
---
Revision as of 16:22, 9 March 2010
Background
Frankie Niagra was a hitman/torturer working under Angelo Punchinello. Frankie is a big fan of Captain Baseball Bat Boy, alluding to his favorite mode of killing: bludgeoning people to death with his baseball bat..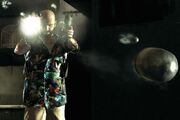 Strategy
First, take out all of Frankie's thugs (preferably with a shotgun) then focus on Niagra. Dual Ingrams work well against him.
Quotes
"Max Payne, I envy your name. Pleased to meet you. I'm Frankie 'The Bat' Niagra"-first words to Max
"Christ, how'd you get loose? Fine by me. This works out just as well."-upon discovering Max had escaped.
Trivia
His nickname "The Bat" comes from the fact that he usually kills people by bludgeoning them to death with his baseball bat.
Max joked about his last name, saying he got it because he cried a lot.
Frankie loves cartoon violence, as observed by Captain Baseball Bat Boy comic stripes.
Frankie is killed and met in the same room as Rico Muerte
Community content is available under
CC-BY-SA
unless otherwise noted.