""Fight and Flight" brings Max's story full circle, revealing more about his days as a young aspiring police officer, his early successes on the force, and ultimately to the events that led to his chance meeting with Passos in Walton's Bar during Chapter 4 of Max Payne 3."
―Max Payne 3 website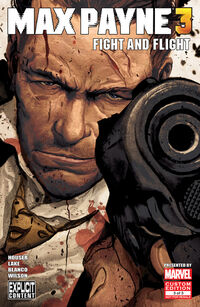 Fight and Flight is a Max Payne comic book[1], the third and final part of a three-part comic book series. This issue concludes the bridge for Max between Max Payne 2: The Fall of Max Payne and Max Payne 3. It was released on July 13th, 2012.[2]
This comic book continues where the previous comic book left off, Hoboken Blues.
Writers: Dan Houser and Sam Lake
Cover Art: Michael Del Mundo
Artist: Fernando Blanco
Colors: Matthew Wilson
Letterer: Clayton Cowles
Project Managers: A.J. Fierro and Raphael Rodriguez
Editors: Alex Alonso
Chief Creative Officer: Joe Quesada
Publisher: Dan Buckley
By type
Characters
Factions
Locations
Weapons
Media
Newspaper (Appears in flashback(s))
Fight and Flight available for download.
Community content is available under
CC-BY-SA
unless otherwise noted.