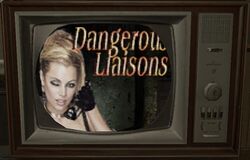 Dangerous Liaisons (phone number: 555-PSSY) is an American phone sex service in operation since 2001. TV advertisements for it air in 2003.
In 2001, advertisements for the service can be seen throughout New York City (mostly in men's bathrooms), but at that time, its name as "Dangerous Liaisons" has not been established yet.
Max Payne once called the service in 2003 and asked to talk to Mona. Their conversation, as any other made from Payne's phone, was recorded by Cleaners spies.
In 2012, it was shutdown by police and it's Madame arrested.
Community content is available under
CC-BY-SA
unless otherwise noted.