This article is about the Max Payne 3 multiplayer map, you may be looking for the in-universe location.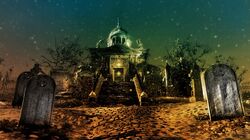 Cemetery is a Max Payne 3 multiplayer map. It is based on the Golgotha Cemetery where Michelle Payne and Rose Payne are buried.
So far, this is the only known pre-order bonus map that appears on the: comics, and the single player chapter Ain't No Reprievement Gonna Be Found Otherwise.
As a pre-order
Edit
Cemetery was the first Max Payne 3 multiplayer map revealed to the public, done so in a November 22nd, 2011, Rockstar newspost. An early access to the map, "weeks before it is made available to the general public," was announced as a pre-order bonus when placing an order via the retailer GameStop.[1]
Tombstones for fans
Edit
In March of 2012, "Be Caught Dead in Max Payne 3" sweepstakes were announced where Max Payne fans from eligible countries could try their luck winning a tombstone in the map with their own name engraved on it. One such promotion was handled by GameStop, and the other "cemetery plots" were offered to the members of Rockstar's Social Club.[2] Only the real names of people were accepted as entries; quotes or nicknames were not permitted.[3] The winners of the Social Club part of the contest were: Vinny D'Agostino, Raymond Lum, and Lee Merryman, while the victors chosen by GameStop were: Michael Clarke, Jeff Favaloro, and Dan Mason.[4]
Cemetery Map was a pre-order bonus, this can now be purchased on Xbox LIVE for 160 Microsoft Points or on PlayStation 3 and PC for $2.
For Max Payne 3 Rockstar Pass holders, this pre-order bonus is free of charge via the ingame marketplace option. DO NOT purchase this content from elsewhere or you will be charged again.
References
Edit
↑ 1.0 1.1 "Pre-Order Max Payne 3 from GameStop and Get Early Access to the Cemetery Multiplayer Map" on the Rockstar Newswire. Retrieved March 29th, 2012.
↑ "Reserve Your Own Plot in Max Payne 3's Cemetery Multiplayer Map via GameStop" on the official Max Payne 3 website. Retrieved March 29th, 2012.
↑ "Social Club Members: Claim Your Max Payne 3 Cemetery Map Tombstones" on the official Max Payne 3 website. Retrieved March 29th, 2012.
Community content is available under
CC-BY-SA
unless otherwise noted.